Rudimarie
par P.C
Weichselstraße 34 , Berlin-Kreuzberg, DE
Heures d'ouverture : ??:?? - ??:??
Première visite : 2008-02-27
Age moyen des clients : 10 ans
Prix du café : 1.20 euros
Score global : 2.26 / 5
Emplacement :
Ambiance :
Evenements bizarres :
Social :
Toilettes :
Produits :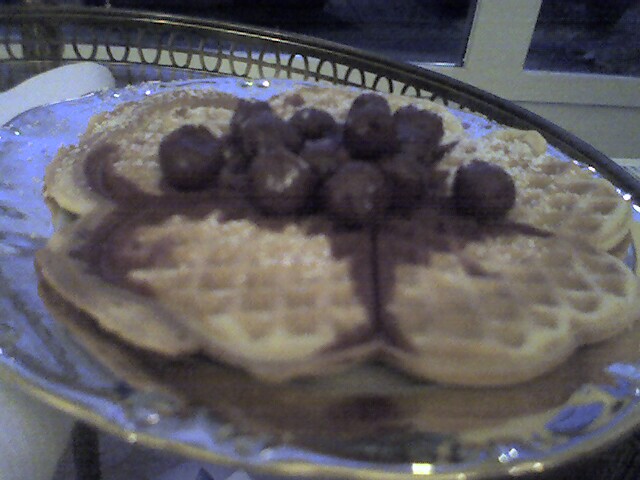 Quand on s'installe dans les fauteuils design de Rudimarie et qu'on regarde les gâteaux dans le présentoir, la première impression est très bonne.
Malheureusement après 5 minutes, on se rend compte que nous nous sommes égarés dans une halte-garderie et rapidement tout devient stressant. Des enfants commandent des gâteaux en nous toussant dessus, on entend les cris des petits enfants gâtés de Kreuzberg. Impossible de se concentrer sur les quelques journaux mis à disposition... Le 'Chien Froid' (gâteau) est tellement sucré qu'il fait mal aux dents.
On se dit qu'on ne reviendra pas, au moins avant d'avoir des enfants. En revanche le lieu joue bien son rôle social (annonce, espace et jeux pour les enfants, concerts le soir) et on apprécie l'effort d'offrir un lieu qui s'adapte aux personnes accompagnés d'enfants. Mais non merci pour le moment... (la déco est tout de même très sympa).
I had my eye on this place for a long time before P and I actually found a time to go (we tried once a few months ago but it was closed). What initially attracted me was the great decor: lots of jars full of colorful round objects, high ceilings with sparkling orbs hanging down, retro wood furniture, eclectic handmade household gifts for sale.

When P and I first enter the place we are excited by the esoteric selection of menu items: "Kalter Hund", a German birthday party staple, fresh waffels with assorted toppings, yummy looking cakes, jars glowing with sweet marmelade insides. I think it is a good idea to serve waffels. I order one with sour cherry topping and am satisfied with my selection when it is presented before me: the waffel is savory-sweet and filling yet doesn't make me feel stuffed. It makes me think that more places should sell crepes in this town.

P and I are about to give the place high marks when our appreciation is interrupted by screaming, whining children and a pack of young adolescents who enter on rollerblades and demand water (which the friendly and patient service man generously doles out). Their mission, it seems, is to come and cough all over the store. P and I are a bit turned off by this display of germy propulsion and decide that in the end, the cafe is probably most appreciated by moms with kids who are otherwise chased out of all other cafes by nasty glares.

Still, the atmosphere was nice and maybe one day, when we have our own hive of coughing, whiny little brats, we will come back and truly appreciate the toys and books, changing station in the bathroom, and the unwaivering patience of the young man tending the counter. He deserves many gold stars!